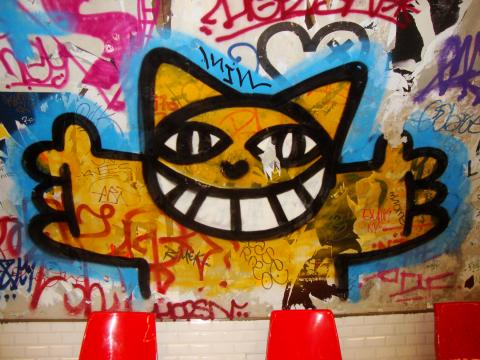 Body:
Hello. If in a previous interview, I've talked about my coulrophobia (ask Mimi the Clown for details), I need to admit I'm a cat person. In fact, I know two of them. Err, no, 4. Mmh maybe 8. Or more. So, just before the private view of his exhibition "Be raining cat" at the Art to be Gallery in Lille, I had a little conversation with Thoma Vuille aka M.CHAT. We sit in the backyard while the bottles of wine are delivered, and I start the dictaphone.
"It's okay, it's recording ? Yeah yeah …"
Our paths have crossed years ago and I want to know where he's coming from. On the walls, like effin'high, on the roofs, watching the city from the top, visible from everyone but yet elusive.
Flash-back: Paris already, when I was a trainee for my diploma, near the Sacré-Coeur, flying on a house wall. At the same time, his graffitis were flourishing throughout the city, with his style (let me quote) "of a graffiti from province, but wanting to do something original as a person"
"(The origin of) the pattern is a little girl giving me a drawing that triggered an emotion... it had been years since I had not had some new emotions and I wanted to reproduce that feeling ... and that's the Orléanais - called the dogs of Orleans - who called me this way, the cat, Mister Cat, Mr. Cat, M.CHAT, so that's it, it stayed. "
So cute, it looks like Disney. Distribution of joy. Hashtag love.
So, Thoma, please, draw me a cat. And by the way, what about the choice of location? Thoma gives a big smile, "look a bit around you" and he shows me a high wall on the back of the small courtyard "when you see there's a hole, I could paint a cat, as the wall is high, I will wait for the opportunity and seize the opportunity you see?"
Yeah I see, I see very well. I begin to understand: as street art is an ephemeral art by essence, it can be covered quickly. A marker, a bomb hit, "at eye level is easy." And it's true that "till 2003 - 2004 I was painting with a brush, if you spend an hour to paint and then someone smears it on..."
Cool, so, I have the explanation for the high location. "When I started, the city is active during the day. As a student, I didn't really find my place in society, whereas when the city turns off, around  10 -11pm, I feel free. " Until 2006/2007, with the appearance of graffiti paint with an extinguisher, "even when I'm perched on a wall, there's no one, I'm more quiet..."
And by the way, Thoma, what is the Toulouse method? We agree that we talk about a "School" with painters like Miss Van & Fafi who use brushes instead of spraycans?
"Yeah, I had read an article... You see, you have a plan, you begin to create, and then reality slows you down, you can't finish it successfully, unfortunately. The brush and acrylic is the gentlest method, you're less mistaken for a bandit."
True: the article 322 of the French Penal Code is about degradation of walls, and considering that his character has happiness written on his face ("Le Chat is always smiling" according Thoma), it's a little more difficult to consider that it degrades the walls.
Reason why, as a student, when he had a bit of pocket money, like 30 - 40 bucks, then hop, M.CHAT was taking his 3 pots of paint (yellow, white, black) and one or two brushes: "every 2 weeks I was painting 3, 4, 5 cats ... My absolute record must have been 9 cats in the same evening. When you're facing guys who make 30, 40 throw ups on a site in one night ... "
Back to the Future.
In 2004, Chris Marker made his film, "Chats perchés" (a documentary that I recommend very much), which gives Thoma access to some institutions, taking advantage of the "Marker network" and therefore going to paint, in Hong Kong, Sarajevo or Santiago for instance. "But in the end, you find yourself catapulted, when you come back, it is fine but how do you still have the pleasure of painting when it's taking you so long?"
ONE WAY - Monsieur chat et Chloé Mazlo - por chloe_maz
In 2007 he gets "tired of playing the police and robbers game." He gets arrested and goes to trial but as M.CHAT is appreciated by the population he receives pardon and grants. "Sometimes you can be a little of a pirate: you don't have the right, but you take it, even if you have to pay the consequences. Then, they must not be too complicated, too hard, we're human after all... "
Somehow, "I take the right to paint, if a wall is slightly degraded I'll regrade it, I will, make it more beautiful in some way, one could not blame me... I came from this principle."
Flashback: I remember arriving in Les Halles, browsing through the tube tunnels and crossing the Cat, arms outstretched, a huge smile on his mouth, spreading love, joy and smiles.
Thoma is a cat, he likes to share. And for a moment, we're looking at the wall. We forget the microphone that turns on and it goes in all directions.
We talk about Banksy and the fact that he could be, as XXXX wrote, Robert Del Naja, 3D from Massive Attack... "And why not? The stencil is the delegation of the act, (Banksy) could be an individual and a group. "
We talk about "Exit Through the Gift Shop" (the infamous mockumentary from Banksy), the Expo in Bristol (poke Cheo, Jody, Inkie), the documentary by Chris Mourkarbel "Banksy Does New York.", about the cover of the Louvre's pyramid by JR.
Conversation about the latin law, the inalienable right of the author, the idea and the US law about copyright, production.
We talk about Shepard Fairey, a guy "very democratic, very productive, but who can also do huge works," about Christian Guémy and Jef Aerosol. The question of production seems to be a problem for him: he believes he doesn't have enough paint facing a C215 or an Invader. And stencil is better in practice, "the bomb (being) a powerful tool that you must control and master," making him go back to spray can at age of 35, after not practicing for 20 years.
So, after the cats in cardboard, the cats in masks (with the user manual that goes well), stencils? Hashtag scoop? "I would like to (re)make stencils, in order to empower people (...), to offer tools to mark their land."
"And all this for what?"
I don't know why but I have one final question, why a winged cat? "I liked the wings of Castelbajac, I thought it was beautiful. And it was in 2002, there was US protests against the war in Iraq, so I paint a dove, and that it, the cat became aerial, which was getting higher and turning into a bird... "
The nice gentleman of "Art to be Gallery" wonders if all goes well, I told him "yeah yeah cool" and I ask M.CHAT what he has planned for  this weekend. "I wanted to throw cats waves in the braderie de Lille" Bad luck, it's canceled. Time flies, and we talk a bit about music, he tells me he will soon launch a record. A smile, a bit enigmatic, lips that roll up. He launches DailyMotion, I try to learn more. I tell him that I want to be a professional singer. I sing, he laughs "You will not be a professional, but you will continue your passion, and you know what, there's nothing better than passion to achieve your goal... It's the dream what makes life. you see, when your dream comes true, it is the Holy Grail. "
The phone rings, my Phat Cat asks if everything is okay. It is, and I think it's time to tighten the leg and go.