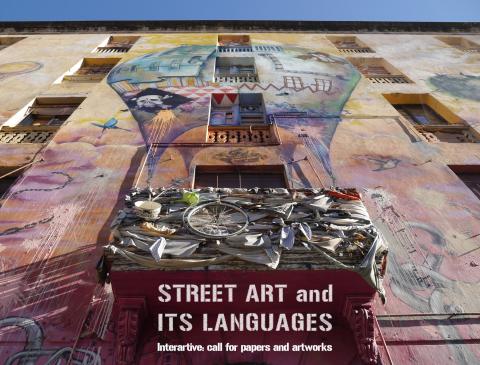 Body:
Deadline: September 20, 2016
Street art is a visual art language now increasingly present in urban spaces and also in the media and cultural debate. Founded as a spontaneous expression of intervention it has been able to establish itself in the urban imaginary through the use of a variety of forms, shapes, techniques and strategies of action that have been modified over the years resulting in unusual patterns of interaction with the public. From action, often fleeting and accomplished in an unauthorized manner, it has also established itself as a licensed practice, becoming an institutional instrument and a new way of visual redefinition of some urban areas.
Then, there is not one idea of street art, of fixed and stable canons, but it could rather be seen as a complex and stratified communicative phenomenon, re-positioned from specifications of intervention in the urban spaces. Therefore, to understand street art is to examine the close relationship that it has with the surfaces, with the neighbourhoods and in general with the city. This practice also does not exhaust its communicative potential within space but lives in constant re-definitions and forms of hybridization. Street artists are aware of the ephemeral dimension of their work, but are increasingly alert to the possibility of spreading, fixing and storing the images on the large number of channels and platforms that the Internet provides them.
Issue #87 of Interartive aims to focus on street art in the following topics:
> Street art, architecture and urban spaces
> The role of digital media in project communication
> Styles, methods of intervention and practices of action
> Participatory and urban regeneration processes
> Institutionalization forms of the phenomenon.
Submissions must be made by the deadline of September 20, 2016.
All material intended for publication in InterArtive should be sent to the attention of Modesta Di Paola and Marco Mondino by mail at: info@interartive.org with mail subject: "Street art And Its Languages".
The text should be in Spanish and/or English.
Texts should be around 800 to 3000 words: PUBLISHNG GUIDELINES Texts
The works and art projects will be published in the form of Online Exhibition (images and short text): PUBLISHING GUIDELINES Artworks
The 87th issue of Interartive will be published at the end of September 2016.