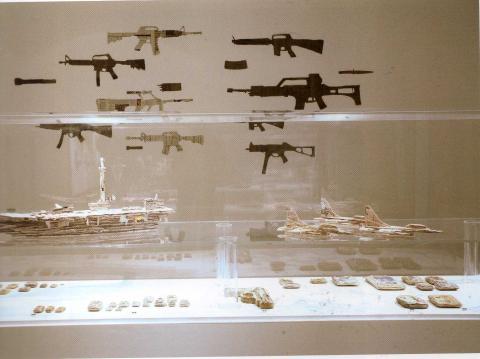 Body:
In the beginning of the 21th century, humanity seems to experience a terrifying rise in violence in a political, social and religious level. Contemporary man, victim as well as victimizer, is expected to renounce the role of the passive observer and face the multiple symptoms of decadence. Art, as a «representative» of «real life»[1], attempts to assist him by suggesting new ways of conceiving and interpreting reality.
In the exhibition «Intersections» at the Contemporary State Art Museum in Thessaloniki (April 2nd - May 31st 2009), Irfan Önürmen presents New Bagdad Museum and Terror Factory, two artworks that express in a creative manner his own concerns about the increasing crisis of violence worldwide violence and  at the same time invite the spectators to think and evaluate their position towards this phenomenon. His artworks consist of installations, paintings, sketches and three-dimensional sculptures made of newspaper pages collected by the artist on a systematic basis.
New Bagdad Museum is inspired from the American invasion in Iraq and in particular from Bagdad Museum's bombardment, its pillage, the selective «removal» of its treasures and the complete devastation of its archives. Önürmen suggests a revival of this painful memory through the establishment of a New Bagdad Museum, in the showcases of which, instead of important historic exhibits, the following tokens of terror are displayed: guns, revolvers, gas masks, bombshells, combat aircrafts, helicopters and war ships. In this museum the interposed human figure is humiliated, hurt and submissive. In the war museum man is transformed from culprit to object and from energetic observer to a distant exhibit.
Terror Factory, as its title implies, represents a factory, a unit of production and training of terrorists, who declare war to those western countries responsible for it, aiming against the temples of imperialism and the treasuries of their history and culture: museums. The white map hanging on the wall reveals these first targets of terrorists. The rest of the objects that form part of the installation: guns, shells, boxes filled with munitions, a jacket fully equipped for a suicide mission are made of newspaper clippings from the war era. What distinguishes the whole installation is that the first pages of newspapers from the war era coexist with images of consumer goods, that death and devastation coexist with the allusion of prosperity experienced by contemporary globalized society.
Onurmen carefully chooses the material he uses. According to the artist, newsparer is «a symbol of information», a visual token of an era and its prevailing politics. «I didn't see war, I didn't smell the gunpowder, I had no interaction with it. The only thing I did is to watch it on TV, read about it in newspapers and magazines. For me war is the images we watched on TV and looked at in newspapers».[2]
---
[1] Theodor W. Adorno, Noten zur Literatur, Frankfurt 1965, σ. 126.
[2] Irfan Onurmen, Catalog for the Exhibition "Intersections", State Museum of Contemporary Art, Thessaloniki 2009, p. 32.