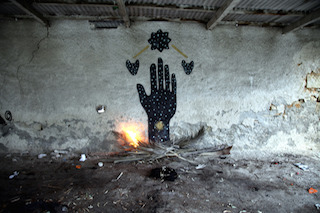 Body:
Animistic temple 1, 2015
Animistic temple 4, 2015
Animistic temple 5, 2015
"The term animism is derived from the Latin word anima meaning breath or soul.Animism is the worldview that nonhuman entities (animals, plants, and inanimate objects or phenomena)possess a spiritual essence. Animism is used in the anthropology of religion as a term for the belief system of some indigenous tribal people especially prior to the development of organized religion. The currently accepted definition of Animism was only developed in the late 19th century by Sir Edward Tylor, who created it as "one of anthropology's earliest concepts, if not the first".Animism encompasses the belief that there is no separation between the spiritual and physical (or material) world, and souls or spirits exist, not only in humans, but also in some other animals, plants, rocks, geographic features such as mountains or rivers, or other entities of the natural environment, including thunder, wind, and shadows. The quantum consciousness assumption, which amounts to a kind of "quantum animism" likewise asserts that consciousness is an integral part of the physical world, not an emergent property of special biological or computational systems. Since everything in the world is on some level a quantum system, this assumption requires that everything be conscious on that level. If the world is truly quantum animated, then there is an immense amount of invisible inner experience going on all around us that is presently inaccessible to humans, because our own inner lives are imprisoned inside a small quantum system, isolated deep in the meat of an animal brain""As archaeologists create accounts of the past from fragments of evidence,'future archeology' creates accounts of the future from fragments of evidence. The future is not unknown, but is made in design studios, project meetings, prototypes, financial forecasts, imaginaries, and so on. There is evidence of the future, just as there is of the past. And as there is no single past, but only many possible accounts of the past reconstructed from pieces of evidence, so there is no one future but only many futures that can be reconstructed from the evidence. The point is that most of what survives will not be determined by conscious decisions on our part. This may not be for want of trying, as shown by the current popularity of time capsules. The most impressive of these must be the KEO satellite, due to be launched in 2015 and to return to Earth 50,000 years later. The satellite's contents are to include samples of air, sea, earth, water, and human blood along with a digital archive of current knowledge and personal messages from members of the public We have no way of knowing what future generations will make of this, should it succeed. But perhaps that doesn't matter."I only feel human when I locate myself in nature. I only find things regular when I dive into nature's infinity and perfection. This body of work consists of fragments for future archaeologists. A case propaganda for animism, a hypothesis for a parallel reality and a hope together that nature will overcome."Climbing a ladder, with a hole in my pocket. A seed falls down when no one is watching. Gently it grows and hugs all the buildings, until we could see nothing..."
Alex Simopoulos (aka Thisisopium) is a multi-disciplinary artist from Greece, currently based in London. He participated on the viewers' program of Athens School of Fine Arts and holds an MA in Illustration from the Camberwell College of Arts. His works span across both indoor and outdoor spaces, using a wide variety of mediums. His main interest is creating public murals. He has been on the forefront of the Greek urban art scene and through the years he has collaborated in various projects with artists from every background, exhibited solo in Athens and London and in group shows in the UK, Mexico and Spain and has left his mark in various countries across the world, from Spain and Germany, to Greece and India. His work is based on a visual language full of spiritual symbolism, using nature and our detachment from it as a key-point to discuss consciousness and the human condition with references that range from primitivism to surrealism. He is interested in mythology and legend as a source of folk anthropology, and especially on themes of the human condition and spirituality. Regarding his work on the public space, he is mainly focused on the creation of "sacred spaces" contrasting the intensive treatment of public space in the contemporary society and on the exploration of abandoned spaces and voids in the urban complex. His work has been featured in numerous publications and belongs in private and public collections in Greece and abroad.