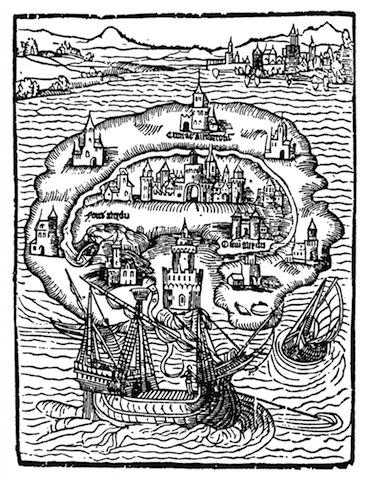 Body:
OPEN CALL FOR CURATOR AUDITORIUM 16/17 – lecture series architecture, urbanism and design 
Stad en Architectuur vzw is inviting curators to apply for the curatorship of the lecture series AUDITORIUM 16/17. The latest edition of AUDITORIUM will take place from October 2016 to April 2017 in the STUK Arts Centre. Stad en Architectuur vzw centres its latest lecture series around the city of Leuven's city-wide project 'Utopia' and would like to invite curators to propose a programme that treats architectural and spatial utopia.
Auditorium 16/17 
Stad en Architectuur vzw has been organising the AUDITORIUM lecture series since 2001 in cooperation with the STUK Arts Centre and the department of Architecture of K.U. Leuven. This series has been bringing together a wide range of experience and expertise and centres around a common theme. International design and architecture firms present through their own projects answers to major social and cultural challenges facing the world, and in particular Flanders as well.
The series will feature a mix of renowned designers and up-and-coming architectural talents on the verge of their international breakthrough. Some of the renowned speakers who have been featured at AUDITORIUM are Patrik Schumacher, Lacaton & Vassal, Sou Fujimoto, MVRDV, West 8, Diener & Diener, Snohetta, Alvaro Siza, Charles Jenks, OMA (Rem Koolhaes), Henning Larsen and many others. Programmes of previous editions.
The lectures are accessible to all: not just a professional audience of architects, urban planners and related professions attend this series. All those who have a cultural interest in architecture are returning visitors of the lectures.
The central theme 'Utopia' 
The AUDITORIUM lecture series' main goal is to focus attention on new trends and developments in the field of architecture by painting a comprehensive and diverse picture of the current architecture culture.
Since 2011 AUDITORIUM has implemented a thematic approach which gives the lecture series a distinct character. The next edition will have as its central theme 'Utopia'. In 2016 it will be exactly 500 years ago that British humanist and statesman Thomas More published his famous book Utopia in Leuven. The city of Leuven celebrates this milestone with a grand city festival opening at the end of September.
The book Utopia was the start of a long tradition of utopian thinking, within the architecture discipline as well. Numerous architectural utopias are pioneering and visionary representations of the built environment which are conceived and designed to guide, to show intent and to influence the concept of building. Stad en Architectuur wants to explore architecture as a utopian practice with this lecture series.
The lecture programme will be composed of a group of leading architectural and design agencies chosen as diversely as possible that in their designs manage to translate current utopias. The content selected can cover a broad spectrum. Current utopian scenarios are set at several different scales and levels, for instance:
- the 'transient' utopia (the passing incidents, events and festivals that design a counter-world on an ad hoc basis and make them a reality for a limited period),
- real urban and landscape experiments (the rather small-scale but real plans that tackle a number of the crucial problems of our times for a limited group of people at a specific location and with limited scope),
- the futurist mega-plans (all-inclusive architectural and urban planning concept for actual or imaginary cities and real new towns and for a very large mass of people).
The central theme 'Utopia' ensures a strong cohesion in an international context, but primarily intends to leave enough room to ensure varied and highly qualitative lectures.
What part does the curator play? 
The curator develops and organises a lecture series of six lectures in total in the STUK Arts Centre in consultation with Stad en Architectuur. 
The assignment consists of creating a shortlist of potential speakers, booking said speakers, writing promotional materials, making practical arrangements, welcoming and introducing said speakers, and organising debriefings.
Who can apply? 
Stad en Architectuur would like to invite anyone who
has a detailed knowledge of current international developments in contemporary architecture,
is available to organise the entire event and can take part in any and all meetings concerning the project.
Stad en Architectuur is inviting candidates to apply with a full proposal of lecture series by shortlisting a number of design agencies and motivating that shortlist.
The submissions are required to follow the following set of conditions: 
The proposal treats a full programme of 8 (6 + 2 backups) international and national speakers
The proposal motivates the relevance of every single speaker to the central theme (in English or Dutch)
The proposed lecture series provides a platform for a multitude of disciplines ( architecture, urban planning, landscape architecture, design, art)
Candidates introduce themselves on the basis of a brief resumé (in English or Dutch)
Planning 
Candidacy before March 21, 2016.
Scheduling: creating a longlist, booking speakers and writing of promotional materials between March 2016 and July 1, 2016.
Execution: making practical arrangements, welcoming and introducing all speakers, and organising debriefings between October 2016 and May 2017.
How can I apply? 
Anyone can apply with a shortlist and motivation until Monday morning March 21, 2016.
We will provide the curator with a fee of €5,500 to curate the entire project (the budget to elaborate the programme with fees and transports for lectors is not included).
Interested parties can send their application to Kristel Putseys, Rijschoolstraat 4, 3000 Leuven, Belgium or kristel.putseys@stadenarchitectuur.be
Any questions? Do not hesitate to call us at +32 16 222 239.
About Stad en Architectuur 
Stad en Architectuur vzw is an association based in Leuven that promotes Belgian architecture by means of debates, talks and exhibitions. Since 2009, it has cooperated with Museum M and arts centre STUK in Leuven to organise its activities. Stad en Architectuur makes it possible to see, experience and discuss a stimulating architectural scene. In this way it inspires a broad audience and thus creates the greatest possible public involvement. (www.stadenarchitectuur.be).