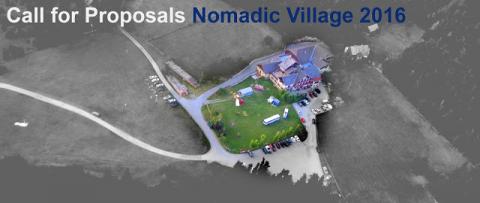 Body:
Hohe Wand, Austria, 1st - 14th of August 2016
Deadline for proposals: 29th of February 2016
This call is for the main Nomadic Village in August 2016 on Hohe Wand. We will offer other small opportunities and one mobile residency between May and July en route through Serbia and Romania.
If you are interested in those just keep an eye on our websites.
The Nomadic Village
The Nomadic Village is a 2-week settlement in which nomadic artists' mobile homes/ateliers form the structure of the Village. The center and townhall is the big blue bus and the Galeria Nowhere exhibition caravan.
Together we create an autonomous enviroment in which participants can freely experiment with new ways of working; it stimulates creativity and exchange, and attracts local people to observe and participate in the process.  At the end of the Village there is a public exhibition/show that invites a wider audience to appreciate the works produced during the Village.
The Nomadic Village is run by Captain Klaus (lead artist and founder) and tinski (directing artist) from On The Road Productions (ORP), Austria.
The Location Hohe Wand, 47°49'55.5"N 16°02'42.4"E
Hohe Wand is a natural reserve and a weekender's destination 70 km south of Vienna. It is one of the last efforts of the alps towards the east and elevates to appr. 900 m above sea level. Even though it is not a really alpine terrain, it sometimes is quite windy and can be cold. Make sure to bring some warm cloths & blankets.
Hohe Wand is a destination for hiking, climbing, paragliding and hang gliding.
Gasthof Postl is generously providing us with a piece of their land, electricity, water and internet. They also let us use their shower and toilet. Lovely folks!
How to apply:
• Make sure that we get a good idea of who you are.
• Give us a comprehensive description of the project you are planning to realize. Short is good.
• Let us know exactly who you'll bring or involve (partners, assistants, friends, family, children, animals).
• Applicants are welcomed to discuss their projects with us before applying.
• Send your application to the Captain:
bus@nomadic.cd
• Deadline for proposals: 29th of February 2016
• We will inform of the selection results on 14th of March 2016.