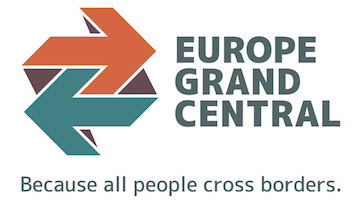 Body:
In the framework of the EU funded project "Europe Grand Central", The Roberto Cimetta Fund is launching an open call on 1st February 2016 to invite Arab artists to submit proposals to six thematic European art residencies on the concept of "borders". The six residencies will be run by six independent art spaces that encourage interaction between artists and local inhabitants. They are based in Fengersfors (Sweden), Bologna (Italy), Athens (Greece), Lublin (Poland), Gozo and Malta. A minimum of 10 residents will be selected. Profiles include artists from all artistic disciplines, curators, cultural/social animators, theatre practitioners.
A simultaneous synchronised event in February 2017 will highlight the works produced as well as the Bordr virtual platform. Read more about the project 
here
Europe Grand Central is a 2-year (September 2015 to August 2017) cooperation project funded by the European Union under the Creative Europe programme. It groups together independent cultural spaces in European countries from the Trans Europe Halles network on the theme of « borders ». The aim of the project is to transform perceptions of border crossings from suspicion into curiosity, empower under - and misrepresented individuals and groups through storytelling, and exchange-methods of inclusion between cultural practitioners and organizations. A unique digital and conceptual platform also connects audience-created-narratives about the human act of crossing borders.
The seven partner organisations are 
Not Quite ekonomisk förening
, Fengersfors, Sweden, Kulturzentrum Schlachthof, Bremen, Germany, Assoziazione 
Laminarie
, Bologna, Italy, 
Vyrsodepseio ODC Non-profit theatre company
, Athens, Greece, 
European Foundation for Urban Culture and Workshops of Culture
, Lublin, Poland, 
Roberto Cimetta Fund
, Paris, France, 
Trans Europe Halles
 (TEH), Lund, Sweden. Through the latter, a European network of independent culture operators, the project reaches some 70 cultural organizations in 28 countries.
Valletta 2018 Foundation
is joining the partnership for the two residencies in Malta and Gozo.
Applications can be made in English or French. The call will be open for one month and a half (February til mid-March 2016). Results of the call will be announced on 15th May 2016 and the residencies will begin at earliest 1st June 2016. Each of the ten grants awarded amounts to 1200€.
Description and criteria for each residency
Residency n°1: Greece, Athens, Vyrsodepseio, provisional dates of the residency: after June 2016 (duration: 10 days). Number of residents: 2
Description: This international art residency runs under the umbrella of Doc(K) international residency platform by Vyrsodepseio. (
http://www.vyrsodepseio.com/en/dock
) Greece has become an experiment for political readjustments in Europe. On top of this, Greece is in the middle of the refugee crisis, which poses the challenge of how to integrate the newcomers into the population and infrastructure. This is a challenge many European countries face at the moment. This artistic residency will give the residents a chance to work on this subject and thereby explore their own region from a different angle, experiencing the situation of the refugee from participating in and working with it. Along with this, this art residency gives the chance to experience a city in transformation and the resilience of art in economic crisis, to meet Greek artists and the huge network of Vyrsodepseio and to collaborate with ODC ensemble in their on going creations and finally to create original art.The resident will be working in workshops and projects of their own choice. Vyrsodepseio team if necessary may connect curators/artists or/and with refugee organisations in order for them to collaborate in their projects.Vyrsodepseio provides working space, PR network, presentation location (if necessary), workshop location, technology and general support.
Criteria: It is addressed to curators ideally but also to visual artists, performance artists and theatre practitioners from the Arab region.
Residency n°2: Italy, Bologna, Laminarie provisional dates of the residency: October - December 2016 (duration: 2 weeks). Number of residents: 2
Description: LAMINARIE theatre group has been founded in 1994 and it has its headquarters in Bologna, Italy. Since 2009 Laminarie directs theatre DOM La cupola del Pilastro, in convention with Bologna Local Administration. The group's mission aims at discovering new ways to communicate within avant-garde theatre. The group has a mature audience production line and a young audience production line. For well over ten years the company has developed its own character, which borders with architecture and visual arts, cinema, literatures.
Theatre DOM, opened in 2009 in an old dome in the heart of Pilastro neighbourhood in Bologna, established itself on the national scene as a leading venue for the particular know-how developed in the field of "territorial activation". Its methodology was developed in a continuous balance between a strong artistic identity and a relationship-oriented work, especially focused on Pilastro, the suburban and poor area of the city where the theatre is placed. For this reason, Laminarie was awarded the special UBU prize in 2012 for its activities "on the boundaries between production and residencies, between city and countryside, migration and memory, childhood and adulthood, between theatrical research and work with the neighborhood, Pilastro in Bologna". The UBU prizes were created in 1977 by Italian critic Franco Quadri. They award the best theater events of the year, voted by a jury composed of 54 top art critics of the country.
LAMINARIE offers an EGC artistic residence at Theatre DOM la cupola del Pilastro, via Panzini 1, Bologna, Italia. The residency will aim to develop Laminarie's project ECUBA-ports and suburbs along the Mediterranean Sea, that is included in Europe Grand Central Project. Ecuba links together theatre research for the production of a new play with the desire to approach new audiences to the languages of performing art. The project runs from 2015 to 2017 and involves Italian suburbs and small villages where there's a lack of stable theatre structures, and several ports along the Mediterranean Sea.
We decided to focus on Ecuba's character for different reasons. The Greek tragedy is universal and it can be used as a means of dialogue between different cultures along the Mediterranea Sea. Its characters are strong enough to involve people of different ages and backgrounds. Ecuba is the story of a war told by the perspective of losers. It's a symbol of a possible change of point of view in history narration.
Criteria: We are looking for professional single artist or groups who work with theatre and performing arts: actors, performers, playwrights, directors. Artists should be interested in the project Ecuba and have a strong willness to work with the context where we are, listening to the features and the needs of the territory and finding connections with the place where they come from.At the end of the residency the results will be shown to the public through public meeting, performances or any other suitable form. Language English/French
Residency n°3: Poland, Lublin, European Foundation for Urban Culture and Workshops of Culture, provisional dates of the residency: starting 1st June 2016 (duration: between 2 to 4 weeks). Number of residents: 2
Description: Our local residency programme is called Community Arts Lab. Lublin, although not a big city, has an incredible amount of resources, institutions, groups, and cultural agents working on culture. Although Poland's economy is considered one of the most stable and growing in the EU, the country is experiencing similar processes which happened in the West and later, post-1989, in East Central Europe. Culture is playing an increasingly important role in shaping creative subjectivities and opening potentials of populations. Culture is also seen as an effective tool to solve a variety of social problems, create environments of tolerance, citizen empowerment, increase participation in urban affairs, build stronger communities, open new means of dialogue, creative expression and alike.In the frame of the Community Arts Lab programme we are experimenting how culture and arts can cross divides between locals, strangers, neighbours, artists and local communities living the city of Lublin. Artists and cultural animators who are curious about crossing borders and interested in building relations with local communities using public space as site of participation and cooperation, are invited to the residency. CAL programme is not focusing on artistic intervention in public space but rather on carrying out activities involving communities living in Lublin in order to create lively public spaces. We want to question the role of artists/cultural animators/managers in contemporary society and our rapidly changing world. We will provide a local cultural animator who will help in communication with local communities and in production of interventions, accommodation, materials.Selected artists will contact the local tutors before coming to Lublin to elaborate their ideas of work and connect it to the local context. The following districts have been chosen: Bronowice, Tatary, Wieniawa, LSM, Kalinowszcyzna and streets: Zamjoska, Lubartowska and SierocaMore information 
here
. General information about the city of 
Lublin
Criteria: We are looking for artists and cultural/social animators representing different fields of arts who speak English or French or Spanish. The invited artists-in-residence should be ready to:• carry out activities focused on a process in one of the districts of the city of Lublin involving the local community and using the local infrastructure (people, spaces).• work with one of the target groups: children (3 – 13 years old), seniors (plus 60 years), difficult youth, unemployed, homeless, young parents, addicted to alcohol. • cooperate with tutors, scholars, artists and animators from Lublin.Artists and cultural animators interested in applying must propose a draft of an action that involve the target groups listed above in the application form..
Residency n°4: Sweden, Fengersfors, Not Quite provisional dates of the residency: September, October 2016 (duration: 1 month). Number of residents:2
Description: Not Quite is an artist co-op of material based and visual artists in a small village in west Sweden. In an old Paper mill we share workshops for metal, wood and ceramics and keep a shop, a café and gallery paces for visitors, mostly during summertime. Most of the artists work in the field of contemporary crafts, we run artistic projects together and have produced exhibitions, performances and music festivals during the last 12 years.
During 2016 we will approach our nearest town, called Åmål, a town of 9000 inhabitants. This town is facing effects of urbanisation and challenges of segregation, groups are forming, suspicion rising and there are groups that are and have been underrepresented in the creative activities and the governing of the town for a long time. Since two years refugees mostly from Arab countries have arrived and integration and cohabitation are important topics for our town.
We want to investigate how we can make a bigger diversity of people engaged in the community life. We believe that the act of making and creating together is a way to give individuals means to express and take place in the community. It is also a way to get people to gather around common activities despite cultural borders of different kinds.
Criteria: Our project is built around participation of the inhabitants of Åmål and the knowledge the members of the artist co-op. We have seen that workshops that for example involve sewing, handicraft and food making are activities that have created meeting points of people from different groups, these have then become the foundation for developing new ideas. We would like to have guests that have experience of working with collaborative and participational projects, were the local context is of great importance, mapping and processing the local history and present situation. We would like to work together with the guest towards a public event of some kind in Åmål.
The artist would have access to our workshops for making in a village 20 mins outside, our networks of contacts with the local community and to an event space in town.We have knowledge and experience of craft and making and that is where we want to start our investigations. Artist or groups that uses craft in innovative collaborative ways would be welcome.
Residency n°5 and n°6: Malta and Gozo, Valletta 2018 Foundation provisional dates of the residency: from June 2016 (duration: 2 to 4 weeks). Number of residents:2
Description: The Valletta 2018 Foundation is offering two artist residencies with workspace for production and exhibition although these spaces will vary depending on the nature of the artist's work.   The purpose of the residency is the promotion of dialogue between artists and the community, with specific interest in community engagement in view of the 2018 European Capital of Culture title.   Each residency will take place on one of the two main islands – one in the more urban environment of Malta and one in the more rural Gozo. In both residencies, access to the community will be facilitated through the Valletta 2018 Foundation, but the artist will be expected to conduct their own research prior to the residency.
Criteria: The residencies should be built around dialogue between artists and communities. The residencies are open to artists from any discipline. Participants are required to engage with the community, not only  through public programming activities such as workshops, open studios, exhibition or performance but especially through direct involvement with communities and / or community-based organisations.
General criteria of RCF
i. The impact of the residency experience abroad must have constructive repercussions on the localised context in the Arab region when the artist returns. This means that his or her experience must not only contribute to personal development but must be shared in a "networking" fashion that will benefit connecting artists and operators in the applicant's own country or community when he or she returns in order to maintain, renew and develop contemporary arts practise in the Arab regions.
ii. Applicants must choose the cheapest form of transport. Visa costs can be covered.
Schedule
The call will be open for one month and a half: 1st February to 15th March 2016
Results of the call will be announced on 15th May 2016
The residencies will begin at earliest 1st June 2016
How to apply
Visit the Roberto Cimetta Fund's website and click on "Apply for a grant", and then click on "
Apply for a Europe Grand Central grant
". Fill in the short questionnaire and submit it. If the information you provide is considered eligible for this call, you will receive the link to a brief form that you must fill out and submit before the deadline. Applications can be made in English or French.
Administration and Evaluation
The call will be administered by the Roberto Cimetta Fund, evaluation will be carried out jointly by the Fund and the EGC residencies.
Funds will be released to successful applicants in the following way: accommodation and per diem grant will be provided to the artist on his or her arrival at the residency. Travel grant will be released upon submission of proof of travel, proof of accommodation and per diem expenses. A written report must also be provided before travel costs are reimbursed.
Rules
The following rules apply to the fund:
i) The decision of the evaluation board is final
ii) The Roberto Cimetta Fund and the EGC residencies reserve the right to reject all applications submitted if the quality of the applications in not seen to be sufficiently high
iii) Dates in the schedule must be respected and complied with in full; failure to do so will result in disqualification.