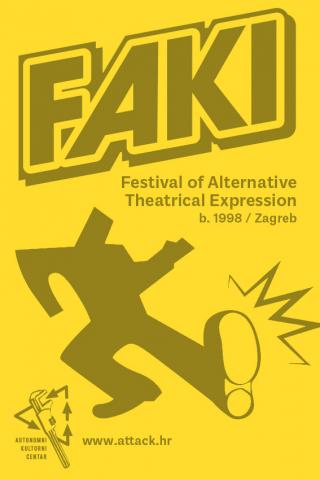 Body:
OPEN CALL FOR FAKI 19!
The 19th edition of the Festival of Alternative Theatrical Expression - FAKI - is held in Zagreb from May 24 to May 29, 2016, in the various adapted spaces of the former medical factory Medika, Pierottijeva 11. The international Festival of Alternative Theatrical Expression was first organized in 1998, in reaction to the elitism, but also commercialization of the institutionalized cultural scene, defined by political and artistic one-sidedness to the point of obstructing the independent avant-garde, subversive and experimental practice of theater and performing artists. For nineteen years FAKI is working under exactly the same premises: by criticizing and affirming the interconnectedness of political relevance with personal and artistic choices, FAKI presents critical and experimental artwork which creates and promotes new models of art production.
As a festival of alternative theater, street theater, performance, off- and low-budget theater, FAKI has, in the last few years, become the central place for an overview of innovative, critical and independent (self-produced), international theater and performance scene, maintained by traveling artists and groups whose research on original, experimental and research models of art expression generates universal existential spectacles and performances. Presented aesthetics and poetics are being compared between themselves and upgraded, thereby establishing new performance styles and criterions.
This year's festival theme is 'the elite-resistant'. From the very beginning, FAKI has preserved a position of socially engaged and politically enlightened advocation for the principles of equality, egalitarianism and freedom, that expresses its beliefs through alternative communication strategies, detecting and naming new emersions of social disparity. Elitism is one of those emersions that appear periodically, each time when a critical social mass adapts to new economical and political conditions. Theater as an expensive, collective art has in the last centuries become a bourgeois art, within which it serves as a platform for elite gathering, where the elite, with its absent-mindedness and indifference, weakens the message and the expression of the artwork. Alternative theater represents a deviation from that concept and hence its activities are devalued by disregard and elimination from the dominant social-economical courses. This year we want to remind, as well as point afresh to this fact. We invite you to redefine the concept of elite, to rethink the importance and role of the audience in creating a performance work and to investigate the elements of destabilization of artistic process, that are conventionalizing artwork, namely the message the public is being exposed to.
We hereby invite performance artists and collectives to apply for participation in FAKI 19, devoted to ''the elite-resistant', regardless of the genre, form and period of their vision. FAKI gives an art residency three weeks prior to the festival, for final rehearsals and international premiere on the opening day, 24th of May. Our performance halls are equipped with basic technical tools (light, sound, projection screens and projectors, technicians, stage manager). FAKI provides technical and stage assistance, covers or refunds cheap travel costs, modest accommodation and vegetarian food for artists residing outside Zagreb. FAKI doesn't give fees or per diems. Admission to the entire festival is free.
Location: Autonomous Culture Centre Attack!, Pierottijeva 11, 10 000 Zagreb
Time: May 24-29 2016
May 9-29 2016, for art residency
The invitation is open until January 20th, 2016. 
Please find application form for performances at http://www.attack.hr/faki/ and send it to fakizafaki@gmail.com. For residency send us your motivation letter, project description and artistic CV, with the subject 'For art residency'.
FAKI keeps developing with a mission of acknowledging contemporary avant-garde and experimental performance artists and collectives, regardless of the genre, form and period of their vision. FAKI advocates democracy and interdisciplinarity within dominant forms of performance expression. FAKI connects artists and art collectives and serves as an international platform for presentation of their work, introducing new art criterions.
FAKI is a non-profit theater festival, organized by Autonomous Cultural Centre Attack! The festival is financially supported by Republic of Croatia - Ministry of Culture, City of Zagreb - Council of Culture, Education and Spot, Foundation Kultura Nova, Goethe-Institut Kroatien and Austrian Culture Forum Zagreb.
Attack! is a non-partisan, non-profit, non-governmental association of civil volunteers creating a cultural and political alternative, as well as an alternative economy, providing  public space for individual creative expression and changes on a local level which lead to a free society.