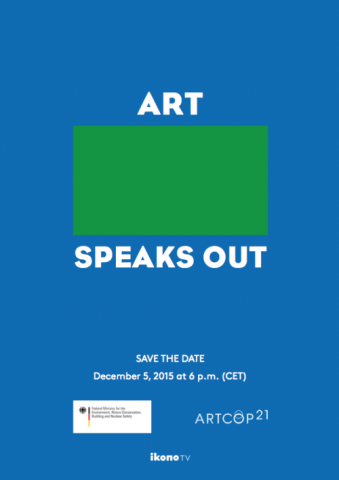 Body:
We'd like to announce an Open Call for our upcoming Art Speaks Out event, a 24-hour stream of contemporary video works based on environmental themes, which will premiere on December 5th during the Cop 21 Conference in Paris as an official part of ArtCOP21.
In this global event, art gives a new and powerful voice to the pressing concerns of global warming and man-made natural disaster, using its emotional appeal intelligently to convey the urgency of these issues in a deeper, more immediate way.
To Apply:
Artists working both individually and collaboratively are invited to apply. All submissions must be original, non-narrative pieces without text or dialogue. We're looking for short videos implementing the universal language of image and sound; documentaries of art works, installations, etc. based on environmental themes are not eligible.
Video artists interested in submitting their work should upload their video on Vimeo and email us the link and password with a current CV. If images are used whose copyright belongs to other artists or sources, explicit authorization must be obtained prior to application.
All selected works will be included in the 24-hour Art Speaks Out premiere and any additional screenings and playlists ensuing out of this broadcasting event. Artists agree to allow ikonoTV to broadcast their video work and to publish stills, video fragments, or the entire work for the purposes of promotion and social media; ownership is retained by the author and will be acknowledged throughout.
Art Speaks Out is a worldwide forum — an invitation to open our eyes to climate change, our responsibility to the planet, and the necessity of adopting measures of sustainability. It will be broadcast exclusively on ikono.tv from 6 p.m. on Saturday, December 5 to 6 p.m. on Sunday, December 6 (CET) as part of the official art program ArtCOP21.
ikonoTV's global reach includes satellite transmission and SmartTV applications with access to over 200 million households worldwide; a 24/7 stream for all online and mobile devices; and over 280,000 Amazon downloads, making us the number one app in the category of education in the US, UK, Canada, and Germany.
Application Deadline: Midnight, October 31, 2015.
Contact: submissions@ikono.org
More Info: http://ikonotv.tumblr.com/artspeaksout