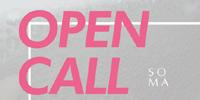 Body:
Submissions are now being accepted for the first edition of the Atelier SOMA Occupation Project.
Atelier SOMA is a transdisciplinary open platform for exhibitions, performances, research, sound interventions and workshops in Curitiba (Brazil). It puts artists together to reach new ways to communicate and to bound their working methods. It aims to create contemporary venues that interact with other creative areas, working together for unexpected and experimental contents.
Atelier SOMA is organizing a collaboration project that will involve artists and mentors that will work together on a proposed topic. Each topic will be developed during two months by one or more artists and a mentor, and the result will be showed in an exhibition.
Themes:
1. Silence
2. Body Voices
3. Place and non-place
Please send Portfolio and Resume to contato@ateliersoma.com
Registration is open for artists and mentors. Candidates should state the selected theme.
Deadline: 20/ 03/ 2015
More information
http://www.callfor.org/brazil-calling/