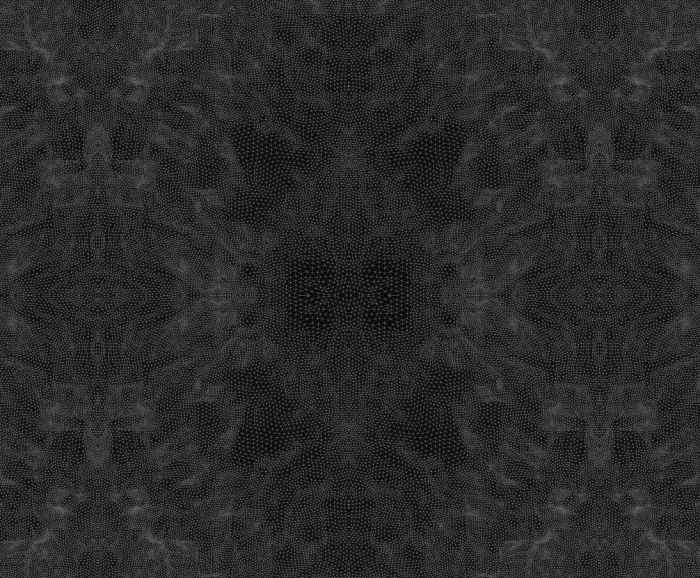 Body:
Nikos Alexiou 'Grid' -detail, digital print on paper, dimensions variable © KIPOS, Nikos Alexiou private foundation, 2010
From the floor plan of a renaissance square or a byzantine building, to a constellation in the sky or the staging of an Ancient Greek tragedy, Nikos Alexiou's artistic work seems to be an open dialogue with art and beyond.
This becomes even more evident in his collection, which appears to be driven by his natural curiosity and love for art. Within a few years, he managed to create an important art collection of more than 200 works, chosen from the artist not simply as objects to be classified and stored away, as is usually the case with collections, but as a living art body. In photographs of the artist's home one sees the collection arranged among Alexiou's own works like an art installation, where each item keeps its unique identity and manages to establish a dialogue with the other elements: a symphony of images.
Paying tribute to Alexiou's inquiring mind, Christina Mitrentse and Jonas Ranson have curated an exhibition where seven London-based artists are invited to create their own "responses" to Alexiou's collection and artworks.
Approaching the work of an influential artist is no easy task; it could result in feeble echoes rather than independent voices. However, the artists participating in the project -Alex Bunn, Alex Zika, Charlotte Bergson, Christina Mitrentse, Marsha Bradfield, Martin Sexton and Jonas Ranson- manage to overcome the risk and create works that have a force and life of their own.
More importantly, they start a dialogue not only with Alexiou's body of work, but also with each other, as well as the exhibition space (Stephen Lawrence Gallery), which is located in the historical building of the Old Royal Naval College of Greenwich. On the main wall of the exhibition, Alexiou's last work, a constellation grid, opens up an immense dimension in space –a poetic look into the sky, which counterbalances the pragmatic look of science, flourishing for centuries within the walls of the Royal Observatory of Greenwich, located just a few meters away from the gallery.
The visitor's experience of the exhibition is completed by slideshows providing further insight into Alexiou's art collection.
In a way, by creating "responses", the exhibition revives Alexiou's spirit and manages to expand his work. As long as there are artists "replying" to Nikos Alexiou, his work will remain alive and will somehow keep extending, despite the artist's untimely death.
If one visualises Alexiou's work as a primordial text written in "Linear B", the most ancient Greek alphabet to have been deciphered, then the responses created can be considered as the addition of new phonemes, words and meanings to it, like a language that evolves through time or an epic story whose ending line is yet to be written.
Until January 6th, 2012, the exhibition Linear B will be presented in The Stephen Lawrence Gallery, University of Greenwich, Queen Anne Court, Old Royal Naval College, Park Row, London SE10 9LS.
For more information:
http://alexioulinearb.wordpress.com
https://interartive.org/2011/10/linear-b
http://nikosalexiou.com
http://christinamitrentse.net
http://www.jonasranson.com