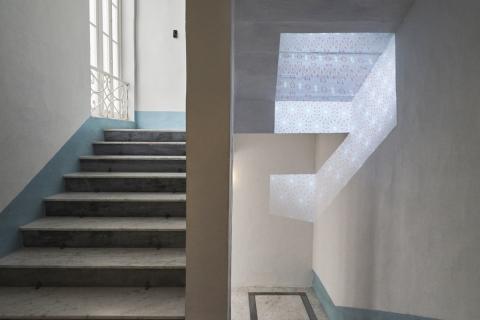 Body:
Truth||Lies exhibition, photo by Alexandra Pace
Herman Bashiron Mendolicchio: Can you please tell me about the history of Blitz, the history and description of the space, your personal involvement and role, and explain the context where is located?
Alexandra Pace: The building which today is known as Blitz has been in my family for three generations. The house was my grandparents' home and it is the place where they brought up their six children, my mother being one of the youngest siblings. When I was only two years old, the family moved out of Valletta as many others did in the 60s and 70s, and the house stood empty for over thirty years until around eight years ago when I started the arduous task of bringing it back to life. Located on the Marsamxett Harbour side of St Lucia Street, the building is set on four storeys comprising of approximately fourteen rooms across the separate floors. Within the building is housed an event and project space, a live-in residency studio space, the exhibition galleries, and the administration studios. I have been heavily invested in this project right from the start, both on a financial and a personal level. Blitz is possible only due to the generosity of my family in making this building available to the organisation. As an artist-run space with grassroots beginnings, renting or purchasing a space such as this would have been impossible and the higher the Valletta market value becomes, the more impossible it becomes.
HBM: What are the main vision and key aims and activities you are focusing at Blitz?
AP: Blitz is a curated space with a focus on contemporary existence and its constant state of flux, and the ubiquitous presence of digital culture. Our mission is to work closely with artists, curators, writers and researchers who are articulating these trends through cross-media and trans-disciplinary practice, to present a programme that is educational, immersive and inclusive. Our objective is to raise the understanding and accessibility of contemporary art in all its forms, engendering a culture that recognises the benefits of being culturally active. This is done through our many programmes and events, such as exhibitions, workshops, curated tours, talks, workshops, screenings and children's events. Across all our programmes, our highest priorities are audience participation and understanding of contemporary art that is current, political and a reflection of contemporary existence. It is also our long-term objective to take our activities beyond the building, through a series of off-site and international collaborations under the umbrella of Blitz Projects. This has already been initiated through collaborative projects such as Transformer, which I will speak about at a later stage.
Truth||Lies exhibition, photo by Alexandra Pace
Truth||Lies exhibition, photo by Alexandra Pace
HBM: Using the title of a recent talk you gave in Malta: What is the role of BLITZ as an independent artist-run space in Malta's cultural ecosystem?
AP: Intrinsic to the Blitz ethos is the belief that the artist-run space of the future is firstly a cultural ecosystem in itself. It is a space where practice and theory merge, and sufficient revenue is generated to support the organisation and its people. The Blitz portfolio already demonstrates a notable contribution to the cultural life of Malta through an artistic programme which is interactive, educational and inclusive. Past exhibitions and events have been driven by innovation and experimentation, with a focus on collaboration and participation, all within a model that is accessible to the broadest possible audience. The role of Blitz in Malta's cultural ecosystem is to fit into a very important segment that has previously been unoccupied locally. In between the government institutions, national museums, artist studios and commercial galleries, there needs to exist a platform that is independent and not commercially driven. The notion of the 'artist-run space' or 'artist collectives' is commonplace in many cities all over the globe. But due to a very limited contemporary art scene in Malta, this notion is not at all commonplace. The objective of Blitz is to be a space that is driven by experimentation and innovation, that sets its own standards and objectives while constantly growing a new audience and nurturing loyalty from our existing followers. Our programming is educational at heart, not in terms of the standard classroom format we are so used to seeing here, but rather one that is driven by critical discourse and being in the company of like-minded people. Also by virtue of our independence, we are able to be very quick to respond to what is happening both locally and internationally and this can clearly be seen in our recent Truth||Lies exhibition and public programme.
HBM: Let's focus on the AiR (Artists in Residence) program. How does it work? What are the specific criteria you require within your program? What are the residents you look for and what kind of engagement, both with the space and the local context you ask for?
AP: The Blitz Residency Programme issues an open call annually for residency intakes for the following year. Currently we are hosting our second resident artists for 2017 and the call for 2018 will be issued around June/July this year. In our second year the number applicants quadrupled from the first year and it was a difficult (but also exciting) task to review over 130 applications to eventually award three! In addition to that our residency programme is also a very good way to collaborate with other institutions such as the currently in progress, large-scale project Transformer, as well as our recent sponsorship of the Dusseldorf Photo Weekend where we awarded a residency to one of the nominees of the annual Portfolio Review.
Applicants to our open call are requested to submit a proposal which not only details the project that they wish to develop but also stresses on the potential public engagement that their practice and proposed project can offer. Our criteria is broad but at the same time specific. We do not limit the eligible practices, our applicants could be visual artists, academics, curators, performers, sound artists etc. What we look for in an application is its multidisciplinary aspect, innovation, experimentation and its potential for strong public engagement, not only by attending talks and events but by true participation. This can be very clearly seen in our current resident artists Ducks! which is a recording project. Part of this is a series of music workshops whereby the sounds created with the audience will be actual components of the final performance as well as the recorded work that will eventually be created as an outcome of this residency – https://vimeo.com/218338787
Truth||Lies exhibition, photo by Alexandra Pace
Truth||Lies exhibition, photo by Alexandra Pace
HBM: From the specific AiR program, I would like to move to a larger related field, which is the one about Cultural and Artistic Mobility. There is a large-scale project you are involved in –Transformer-, which is focused on this topic. Can you tell me more about it? What can be the contribution in this field from a space like Blitz and from the specific context of Malta?
AP: Transformer is a multifaceted, two-year project in collaboration with Central Saint Martins, University of the Arts London. The project engages Maltese and regional artistic practice and situates it within an international cultural network via a series of border-crossing curatorial and artistic exchanges. The project includes curatorial research, artist residencies, public talks and workshops and a series of site-specific exhibitions in spaces across Malta in 2018. Transformer institutes a ground-up, grassroots, sustainable and long-lasting interchange; nurturing, developing and extending the activity of the Maltese contemporary art scene, widening its sphere of influence, and embedding it within European and international context.
The long-term sustainability plan of Transformer is to place Malta and Blitz at the heart of a network of Artist Run Organisations (AROs) that facilitate cross-border cultural exchanges in the Euro-mediterranean region. Working with similar AROs from Marrakech, Casablanca, Athens, Barcelona and Utrecht, Transformer aims to be the first step in generating a long-lasting network between these organisations that can grow into a larger network and spin-off collaborations and projects over the coming years.
HBM: Another interesting project I would like you to talk about is focused on the practice of curating. I'm talking about Future Curate.
AP: Future Curate is a personal research project supported by Arts Council Malta. Embarking on this short-term project has been based on the objective of raising my own understanding of current curatorial practices which are ever-changing based not only on current artistic practices but also on trends, politics, media, technology, and an evolving networked society. In our present cultural environment, curation is generally approached in one of two ways. First, the classical, perhaps outmoded idea of the 'representation of representation', i.e. a selection of artworks based on a framework of visual aesthetics. Second, as a result of the more recent proliferation of new media technologies in art, the artist / audience paradigm is being redefined to account for recent developments in visual technologies. This research is fuelled by a desire to go beyond my own curatorial practice and to experiment with other platforms and iterations of the 'exhibiting space'. The main aim will be to inquire into the issues of display and curating that condition exhibition-making today. In this context the exhibition is to be understood not simply in terms of its display or layout but as melting pot of media in which all parts contribute directly or indirectly to the production of meaning. Again, results of this can be seen in the recent Truth||Lies exhibition which I curated at Blitz. This exhibition came about from a very intense 6 week period from selecting the artists to opening night. It consists of works by 14 international artists and it is about the current ongoing debate on issues of whistleblowing, leaking, and the subsequent counter-accusations of 'fake news'. It could not have come at a better time, as you may know we are in the middle of a political crisis in Malta because of the same global themes discussed in this exhibition!
Public talk by resident artists Ducks!, photo by Alexandra Pace
G Plan Made In Malta exhibition, photo by Alexandra Pace
HBM: Another specific question I would like to ask you it deals with the practice of writing and publishing. I see that for almost all the exhibitions and projects you do organize at Blitz, there is a related short catalogue or publication. How important is, in your opinion, the practice of writing and publishing for Blitz? Is it serving a purpose of reflection, archive or other needs?
AP: We have published catalogues of our exhibitions from day one, and four years later we have accumulated quite a substantial archive of published material. At the time of publishing these serve as valuable interpretation material since they always contain curatorial text about the exhibition or project on show. Longer term these serve as an archive that documents our progress over time. Publishing will always be on ongoing component of Blitz and at the end of 2018 we plan to publish a review publication that looks back on three years of our Residency programme.
HBM: Talking about Valletta and Malta. How do you see the current cultural development and what will be the role and place of contemporary art in the next future of the country?
AP: Our main objective has always been to push boundaries and to support and show experimental and radical arts practice in all its form. I feel that in the past four years of Blitz's existence, our programme has grown to be more and more aware of present realities and it is our aim to be at the forefront of placing art where it belongs in these highly politicised times. The response to our programme has been both fantastic and humbling. Our local audience attendance and engagement has been constantly growing and the majorly international response to our open calls is testament to our audience reaching far beyond the boundaries of our island.
Undeniably, there is a lot happening in Valletta and Malta right now, especially in the run up to the much-anticipated European Capital of Culture. Everything is happening at an accelerated pace and the level fluctuates across the multitude of happenings. One can only hope that there is a stable sustainability plan in place otherwise we might just suffer the fate of many other ECOCs. Personally, the decision to set up an organisation and space such as Blitz was not due to this much anticipated year for Valletta, but rather stemmed from a desire to establish a contemporary art space in this vacuum. I started this adventure in 2008 and Blitz took its proper form in 2013, therefore this is a project that has been in process for a very long time. All that is happening currently has added another layer to our work, through the increased availability of public funding and an audience that is perhaps more culturally aware.
HBM: Just to conclude, what are you working on at the moment and what are the future projects at Blitz?
AP: Our programme is currently very active. We have just concluded the Truth||Lies exhibition and public programme which has been one of our most successful and highly attended so far. (https://vimeo.com/217808483)
Currently our second resident artists for 2017 are in the house. These are Ducks! They make electronic music for dancing and dreaming, influenced by Disney and disco, combining synthesiser and vocal loops with found sounds and field recordings. While they are here, they are conducting a series of participatory workshops and an eventual live performance at The Royal British Legion in Valletta.
The rest of this year is made up of another two incoming residencies, a solo exhibition by local artist Kane Cali, the ongoing Transformer project and the launch of our outgoing residency programme whereby we will be sending selected local artists for residencies abroad. And of course, in the meantime we are programming 2018 which we will announce in the final quarter of this year.