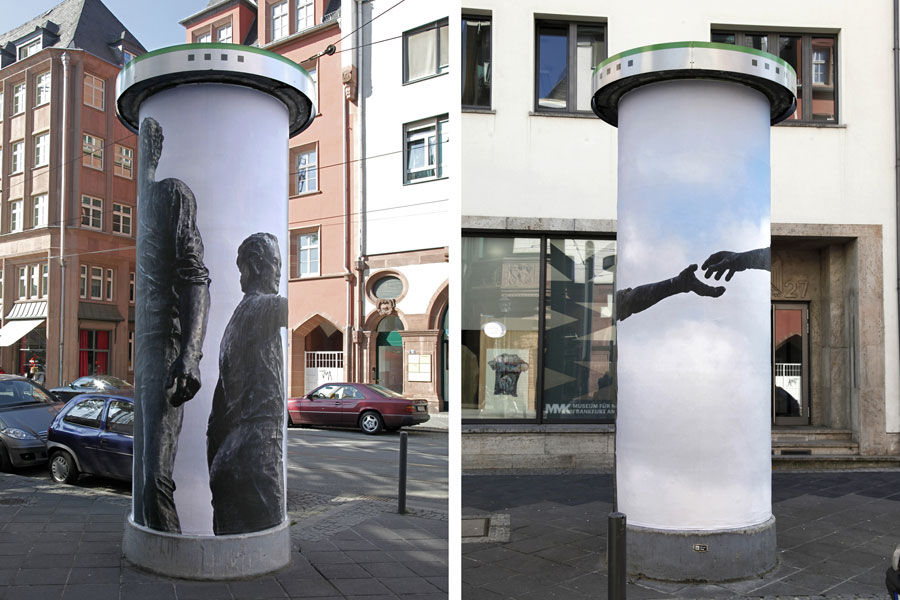 Body:
The Shake, a project by Khaled Barakeh, 2013
Etymologically the term schizophrenia means a splitting of the mind. As an expatriate Syrian working internationally, I have become ever more aware of our tendency to harbour internal divides that separate one community from another. Looking closely at these divides, they are extremely complex and difficult to grasp. If we can think of the city, our home, as an entity unto itself - with many perspectives voiced in many different ways – it becomes clear that the contemporary situation in many states and cities around the world is still one of a schizophrenic or rather schizotopic tendency.
Personally - and unfortunately - I grew up in an occupied territory called Golan Heights, where the conflict remains unresolved since 1967. Half of my village is under the control of Israeli occupation, and the other half is in the Syrian part. By being there, I've experienced the effects that war can have to scatter and separate a family. This situation I have in my small village is spreading now, almost, everywhere in Syria. The whole society seems to be vertically divided in two: with vs. against. It was so sad to witness how differences in ideology can cause and maintain turmoil both between and within people.
Cupar Way: A multi-level barrier 800 meters long created in Belfast to divide and "protect" the neighborhoods form each other. The barrier includes a 4.5 meters high concrete wall, topped with 3 meters high metal sheeting and 6 meters of open mesh fence. The new layers of the wall was added later in order to stop people from throwing stones at each other. Photo by the artist, Belfast, 2013.
In 2012 while the conflict in Syria at it's most extreme, I got invited to deal with another complicated one: I was anartist in residence at the International Culture Arts Network program in Derry~Londonderry in Northern Ireland. At the beginning I had my doubts in going there and dealing with a history that is not my own. But later I thought it might be interesting to go and see there what the future of the conflict in Syria might look like, and to figure out how Northern Irish society is progressing since the Good Friday Agreement of 1998.
After having spent some considered time in Derry~Londonderry, I was surprised to find out that society in modern Northern Ireland is still so divided and antagonistic. The double naming of the place, the separate housing, schools and taxi companies all have me wondering about the failures that persist and maintain this internal strife – they've even appropriated the Israeli and Palestinian flags and adapted the situation as their own!
The Free Derry Corner: a historical landmark in the Bogside neighborhood of Derry~Londonderry, Northern Ireland. A free-standing gable wall commemorates Free Derry, a self-declared autonomous nationalist area of Derry that existed between 1969 and 1972. Photo by the artist, Derry~Londonderry, 2013
In my experience, these examples make it clear that there is a certain inability for people within the society to meet each other on common ground, revealing the emblematic confusions and numerous distortions that occur within and throughout the city. While the Foyle River – like an ocean or a border - can be bridged, the pain and destruction of ideological forces is extremely difficult to overcome, especially as it seems to be intentionally maintained. What divides them has to be made opaque; they are close to meeting on a common ground but cannot quite reach each other - though not from a lack of vision.
'Hands Across the Divide' sculpture by Maurice Harron in Carigavon Bridge crossing the River Foyle. Photo by the artist, Derry~Londonderry, 2013
I thought to somehow move the two figures of Maurice Harron's 25 year old 'Hands Across the Divide' iconic sculpture, that is centrally located on the bridge between Catholic and Protestant areas, a few centimeters towards each other. The sculpture embodies two men at the moment just before shaking hands. And yet, as immobile forms in bronze, they are perpetually unable to do so - to actually meet and feel the reciprocity of the shake. There's a vacuous space between their hands that is loaded with tension and charged with decades of frustration.
Details from 'Hands Across the Divide' sculpture. Photo by the artist, Derry~Londonderry, 2013
The Shake is an exhibition that unfolds in stages, both in the public and within the gallery as a response to the antagonistic situation in the city of Derry-Londonderry. The installation consists of sculptures, public billboards, t-shirts and a spatial mirroring using photographs. Process and outcome are in conversation and reveal an acknowledgment of the complexity and potentiality of the dense and complicated status the city maintains and struggles with in Northern Ireland.
THE SHAKE 2013 Installation view at MMK Museum für Moderne Kunst - Zollamt, Frankfurt, Germany
'Materialised Distance' is a new sculpture that sets the negative space between the aforementioned hands of Harron's 'Hands Across the Divide' with a palpable form, around which four other multimedia works revolve. This negative space between the hands was captured by a panoramic laser camera and subsequently translated into a 3D print to be used later to cast the final sculpture for the exhibition space. The inability to meet is, using a rather advanced technology, shown for what it is: an intentionally complex abstraction.
Materialised Distance 2013 Ceramic 23x17x15 cm
Two looped videos are facing each other inside the space. In each one there is a still image that represents one part of the city; on top of which is a 3D animation of the glass sculpture, Materialised Distance, moving synchronously between the two screens. The transparent object persistently rotates and moves in the manner of a screen saver over the background images, destroying a portion of the image. . .
The Shake. Videos
HD 16:9
 Each 01:12 min (Loop)
It must not be a coincidence that the images I made using the 3D camera for the production of the hologram and glass sculptures Materialised Distance also resulted in distorted yet beautiful images themselves. In these laser photographs an entire 360 degree panorama of the statue is captured over time by the camera and so anything in movement becomes deformed while the sculpture remains intact. These 13 images of the making of the 3D laser scan are also positioned throughout the city in place of billboard or/and columns advertisements.
360 degree C-Print photo 104x245 cm
These images reflect on the fact that, of course, any sort of reconciliation or healing will take time, that it is not simply bandaged and fixed, but rather that both sides need to relinquish a scaffolding of historical pain, realize their own image as a whole, and hopefully work towards getting over this psychological barrier that is written all over their city.
A distorted representation of the city is again photographed, painted as a mural and positioned next to the original sculpture by Harron. This image and an image of the glass sculpture are printed on both sides of t-shirts which are then installed throughout the city – hanging in trees, on street lights and any other surface one may hang a shirt from.
By revealing the processes that lead to the making of the sculpture, and by inverting the testimony of the city into the gallery space, my hope is that a new perspective on a persistent challenge may emerge, and that the city may begin to cultivate their space mutually, recognizing that the place of reconciliation is all around them, just waiting to be grasped ...
Inkjet digital print 365x437 cm on advertising column outside the MMK Museum für Moderne Kunst - Zollamt, Frankfurt, Germany
KHALED BARAKEH: Born in Damascus Suburb in 1976 and graduated from the Fine Art Faculty in Damascus in 2005, Khaled Barakeh completed his first MFA at Funen Art Academy, Odense in 2010. His works have been presented at many art institutions worldwide. Barakeh finished his Meisterschueler with Simon Starling's class in the Stadelschule in Frankfurt where he lives and works since 2010.
Barakeh's art practices deal with current and pertinent issues revolving around politics, identity, cultural and historical matter. He tries not to draw too great divide between artwork and the beings that surround its creation. It comments on specific issues, where it responds to the history of the hidden in social issues.