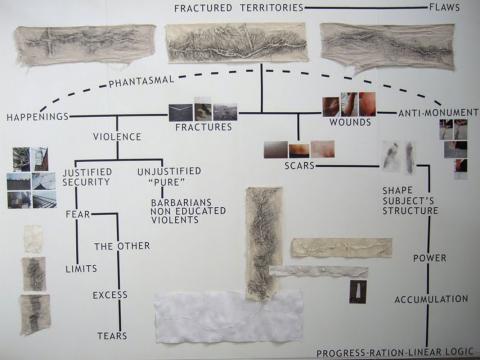 Body:
Text by: Marisa Gómez
[gallery]
Fractured Territories is, more than a picture or a collage, a conceptual map. A map that positions and guides us trough the different mechanisms that, consciously or unconsciously, shape the subject in the context of post-colonialism.
The subject, always linked to territory and this one, always linked to power, mould each other in a joint future. The tensions between them, like the violence of any tension, produce wounds that, when healing, remain forever as scars of the conflict and its reasons or no-reasons.
Natalia Calderón explores these real and metaphorical scars over the urban territory of Mexico City and over the body itself, as flaws that show different history layers, but also different dimensions of the conflict with "the other". Scars built with walls, barriers and wire fences, that split the continuity of the urban tissue and construct with their linear layout the traces of fear and control. An implicit violence that directly hurts the subject's flesh.
The cracks on the pavement – daily stepped by passers-by that barely notice their presence- here turn into abstract drawings that try to make us conscious of how fractures can shape our identity. So the scar turns into an "Anti-Monument": it doesn't conmemorate and, opposite to the monument, remains unnoticed. However, it makes us remember… and understand.
Fractured Territories makes us notice the crack, the scar, as a fold that approaches the inside and the outside, the real and the metaphorical, the conscious and the unconscious. It visually unfolds an  aesthetic of the fracture that reveals hierarchy, oppression and conflict in our society. But this aesthetics of fracture also reveal the cracks of the dominant western thought. And, just trough those cracks, the critical regard of the artist passes in the form of research.
.
Fractured Territories es, más que un cuadro o un collage, un mapa conceptual. Un mapa que nos orienta y nos guía a través de diversos mecanismos que, consciente e inconscientemente, dan forma al sujeto en el contexto del post-colonialismo.
El sujeto, siempre vinculado al territorio y éste, siempre vinculado al poder, se modelan unos a otros en un devenir conjunto. Las tensiones entre ellos, como la violencia de cualquier tensión, producen heridas que, al cicatrizar, quedan para siempre como vestigios del conflicto y sus razones o sin-razones.
Natalia Calderón explora estas cicatrices reales y metafóricas sobre el territorio urbano de Ciudad de México y sobre el propio cuerpo, como defectos que muestran diversas capas de la historia, pero también distintas dimensiones de los conflictos con el otro. Cicatrices construidas con muros, vallas y alambradas, que descomponen la continuidad del tejido urbano y construyen con sus trazados lineales las marcas del miedo y el control. Una violencia implícita que hiere directamente la carne del sujeto.
Las grietas del pavimento –sobre las que los transeúntes caminan cada día sin apenas ser conscientes de su presencia- se convierten aquí en dibujos abstractos que tratan de hacernos conscientes de los modos en que la fractura modela nuestra identidad. La cicatriz se vuelve así "anti-monumento": no conmemora y, a diferencia del monumento, pasa desapercibida. Sin embargo, nos hace recordar… y comprender.
Fractured Territories nos hace reparar en la grieta, en la cicatriz, como pliegue que aproxima lo interior y lo exterior, lo real y lo metafórico, lo consciente y lo inconsciente. Despliega visualmente una estética de la fractura que revela lo jerárquico, lo opresivo, lo conflictivo de nuestra sociedad. Pero esta estética de la fractura revela también las propias grietas del pensamiento occidental hegemónico. Y, precisamente a través de ellas, se cuela esta mirada crítica de la artista en forma de investigación.
.
Fractured Territories è, più che un quadro o un collage, una mappa concettuale. Una mappa che ci orienta e ci guida attraverso meccanismi distinti che, coscientemente e incoscientemente, danno forma al soggetto nel contesto del post-colonialismo.
Il soggetto, vincolato sempre al territorio, e quest'ultimo, sempre vincolato al potere, si modellano l'uno con l'altro in un divenire comune. Le loro tensioni, come la violenza di qualsiasi tensione, producono ferite che, una volta cicatrizzate, rimangono per sempre come vestigia del conflitto e come ragioni, o non-ragioni, di esso.
Natalia Calderón esplora queste cicatrici reali e metaforiche sul territorio urbano di Città del Messico e sul proprio corpo, come difetti che mostrano diversi strati della storia, ma anche distinte dimensioni dei conflitti con "l'altro". Cicatrici costruite con muri, recinzioni e fili spinati, che scompongono la continuità del tessuto urbano e costruiscono, con i loro tracciati lineari, i segni della paura e del controllo. Una violenza implicita che ferisce direttamente la carne del soggetto.
Le crepe sul pavimento – sulle quali i passanti camminano ogni giorno senza nemmeno rendersi conto della loro presenza – si trasformano in disegni astratti che cercano di farci vedere e capire i modi in cui la frattura modella la nostra identità. La cicatrice diventa "anti-monumento": non commemora e, a differenza del monumento, passa inosservata. Tuttavia, ci fa ricordare…e comprendere.
Fractured Territories ci fa riparare nella crepa, nella cicatrice, come piegatura che avvicina l'interiore con l'esteriore, la realtà con la metafora, la coscienza con l'incoscienza. Dischiude visivamente un'estetica della frattura che rivela l'aspetto gerarchico, oppressivo, conflittuale della nostra società. Questa estetica della frattura rivela però anche le proprie crepe del pensiero occidentale egemonico. Ed è proprio attraverso di esse che s'infila lo sguardo critico dell'artista sotto forma di ricerca.
.
Fractured Territories é, mais que um quadro ou uma collage, um mapa conceitual. Um mapa que nos orienta e nos guia através de diversos mecanismos que, consciente e inconscientemente, dão forma ao sujeito no contexto do pós-colonialismo.
O sujeito, sempre vinculado ao território e o território, sempre vinculado ao poder, se modelam uns aos outros formando um conjunto. As tensões entre eles, como a violência de qualquer tensão, produzem feridas que, ao cicatrizar, ficam pra sempre como vestígios do conflito, de razões ou sem-razões.
Natalia Calderón explora estas cicatrizes reais e metafóricas sobre o território urbano da Cidade do México e sobre o próprio corpo, como defeitos que mostram diversos períodos da história, mas também distintas dimensões dos conflitos com o outro. Cicatrizes construídas com muros, valas e cercas, que descompõem a continuidade do tecido urbano e constroem com seus traçados lineares as marcas do medo e o controle. Uma violência implícita que fere diretamente a carne do sujeito.
As fendas do pavimento –onde os andarilhos caminham quase sem consciência da própria presença- se convertem aqui em desenhos abstratos que nos fazem conscientes dos modos em que a fratura modela nossa identidade. A cicatriz se torna assim "anti-monumento": não comemora e, diferente do monumento, passa despercebida. No entanto, nos faz lembrar… e compreender.
Fractured Territories nos faz reparar na fenda, na cicatriz, como dobra que aproxima interior e exterior, real e metafórico, consciente e inconsciente. Desdobra visualmente uma estética da fratura que revela o hierárquico, o opressivo, o conflitante de nossa sociedade. Mas esta estética da fratura revela também as próprias fendas do pensamento ocidental hegemônico. E, precisamente através delas, se formula este olhar crítico da artista em forma de pesquisa.
.
Tα Fractured Territories είναι, πέρα από πίνακας ή κολάζ, ένας εννοιολογικός χάρτης. Ένας χάρτης που μας προσανατολίζει και μας οδηγεί μέσα από διαφορετικούς μηχανισμούς, που, συνειδητά ή ασυνείδητα, διαμορφώνουν το υποκείμενο στο πλαίσιο της μετα-αποικιοκρατίας.
Το υποκείμενο, πάντα συνδεδεμένο με την περιοχή και αυτό, πάντα συνδεδεμένο με τη δύναμη, αλληλλοπλάθονται σε ένα ενιαίο μέλλον. Οι εντάσεις μεταξύ τους, όπως η βία οποιασδήποτε έντασης, προξενούν πληγές που όταν κλείνουν, παραμείνουν για πάντα ως ουλές της σύγκρουσης και της αιτίας ή του αναίτιου που την προκάλεσε.
Η Natalia Calderón εξερευνά αυτές τις πραγματικές και μεταφορικές ουλές πάνω από την αστική περιοχή της Πόλης του Μεξικού και πάνω στο ίδιο το σώμα, σαν ρωγμές που δείχνουν διαφορετικά στρώματα της ιστορίας, αλλά και διαφορετικές διαστάσεις της σύγκρουσης με "το άλλο". Ουλές χτισμένες σε τοίχους, φράχτες και συρματοπλέγματα, που διακόπτουν τη συνέχεια του αστικού ιστού και κατασκευάζουν με το γραμμικό τους περίγραμμα ίχνη φόβου και ελέγχου. Μια αφανής βία που πληγώνει άμεσα τη σάρκα του υποκειμένου.
Οι ρωγμές στο πεζοδρόμιο -τις οποίες πατούν οι περαστικοί κάθε μέρα χωρίς να αντιλαμβάνονται σχεδόν την παρουσία τους- γίνονται εδώ αφηρημένα έργα ζωγραφικής που προσπαθούν να μας δείξουν πώς οι ρωγμές διαμορφώνουν την ταυτότητά μας. Έτσι, η ουλή γίνεται «αντι-μνημείο»: δεν σηματοδοτεί, και σε αντίθεση με το μνημείο παραμένει αφανής. Ωστόσο, μας κάνει να θυμόμαστε... και να καταλάβουμε.
Τα Fractured Territories μας κάνουν να κατανοήσουμε τη ρωγμή, την ουλή, ως μια πτυχή που προσεγγίζει το εσωτερικό και το εξωτερικό, το πραγματικό και το μεταφορικό, το συνειδητό και το ασυνείδητο. Οπτικά ξετυλίγει μια αισθητική της ρωγμής που αποκαλύπτει την ιεραρχία, την καταπίεση και τη σύγκρουση στην κοινωνία μας. Αλλά αυτή η αισθητική της ρωγμής αποκαλύπτει επίσης τις ρωγμές της κυριαρχούσας δυτικής σκέψης. Και, είναι ακριβώς μέσα από αυτές τις ρωγμές, που εισχωρεί η κριτική ματιά του καλλιτέχνη με τη μορφή της έρευνας.