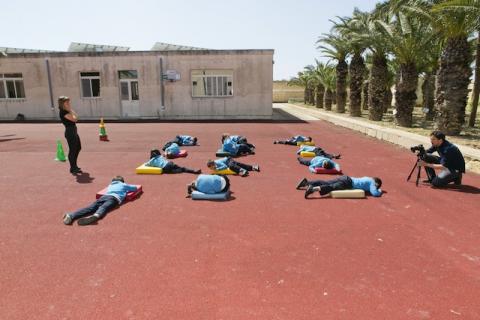 Body:
"Chance is always welcome in the work I aspire to do, I enjoy random encounters, and I had plenty in Gozo and I was lucky to include some into the work. The people and their outlook and enthusiasm to life and the other has dramatically and positively contributed in the development of the work over the 6 weeks I spent between September and November 2016. I look forward to launching the exhibition in the government of Gozo April 8th 2017 and to see the mothers again after a while!"
This is a quote by Deema Shahin, who at the time of writing this article is ending the second stage of her residency (You will find more about her work and experience further on in this publication). This quote illustrates well the philosophy behind the residencies taking place in Malta at the moment. It is not just about connecting creative people and enriching one another's practices, it is also about creating bridges and crossroads where artists and communities meet. As such the residency programme seeks to enrich cultural diversity within the national creative scene, and encourage productive interaction between international creatives and local creatives; between international creatives and communities, as well as physical and virtual environments.
Furthermore due to its physical position in the middle of the Mediterranean, Malta also wants to take up its role as a creative hub where East and West join. When selecting the artists this is carefully taken into account.
Of course there were already Artist Residencies going on before, but one can say it happened on a different pace. Artists would come in and sometimes they left the Islands without anyone noticing. That vastly changed now due to a series of events that reinforced each other:
- Valletta was awarded the title of Cultural Capital of Europe for 2018. This created a momentum for the development of the cultural and creative sector on the Maltese Islands. It certainly accelerated certain processes on a strategic and an infrastructural level. A Foundation was put into place making it its mission to drive cultural, social and economic regeneration in Valletta and the Maltese Islands through collaboration, exchange and innovative practice[1].
- Spazju Kreattiv, the former St. James Cavalier Centre for Creativity in Valletta, got a new artistic team and their programme is a mix of own projects and proposals focussing on a much broader definition of creativity than before; including science, technology and broadcasting in order to foster Maltese contemporary art and creativity in all disciplines[2].
- Blitz, an independent art space in Valletta, opened its doors. The space supports experimental and radical arts practice in all its forms, including residencies[3].
- And last but not least there was the significant transformation of Malta Council for Culture and the Arts to become Arts Council Malta (ACM), in order to be able to support the changes needed in the sector to meet the challenges of a European Cultural Capital year and beyond.
On May 12 2015 the Maltese Parliament approved a new legal structure for the Arts Council and 6 months later the Strategic Department of the Council was able to launch a 5 – year strategy. This action plan was developed thanks to a series of workshops, focus groups and interviews involving around 330 artists, creative practitioners and other stakeholders discussing insights, ambitions and dreams for Malta's cultural and creative sectors in the five years to come. Or as the strategy states: With 2018 set as the fulcrum of our plan, we are building towards the Valletta European Capital of Culture and simultaneously working towards its legacy for post-2020 cultural development[4].
One of the key goals of the strategy is to facilitate within the international development of the cultural and creative sectors to sustain both sectors' growth as well as their contributions to Malta's international relations. It also contributes to the European Commission's Work Plan for Culture (2015-2018) whereby the Member States are invited to collaborate on priorities, including the promotion of cultural diversity, culture in EU external relations and mobility[5].
Action 55 of Create 2020 especially focuses on supporting the development of incoming and outgoing artist residency programmes for artists, implemented in collaboration with the public cultural organisations and festivals. But not just with the public institutions, also with independent spaces such as Blitz. Aim is to reach the number of 50 incoming/outgoing artists by 2020.
Looking back to the last 18 months that number is feasible thanks to the engagement of the actors mentioned above. As such Valletta 2018 foundation plays an active role in developing and supporting this Create 2020 action. The Foundation supports the residencies taking place at Blitz, and developed a residency programme on different levels consisting of artist residencies linked with specific cultural capital projects, as well as the implementation/initiation of new programmes developed connecting art with other disciplines such as healthcare and science. Thus there is the "Deep Shelter"- residency [6]that runs over a period of two and a half years at the Sir Anthony Mamo Oncology Centre, and there is the residency programme planned for 2018 at the newly opened science centre Esplora.
A vast part of the programme is linked though to the joint residency programme set up with Spazju Kreattiv. It is based in the context of a growing cultural scene in Malta, fed by Valletta's European Capital of Culture title, and the Arts Council Malta's Strategy 2020. Artists are encouraged to work directly and actively with local communities and cultures; be willing to interact productively with local creatives, and work within a context that relates directly to the Spazju Kreattiv programme and/or the programme of Valletta 2018 (see vision and themes below). An extra criterion was added to encourage artists from the Mediterranean region (particularly North Africa and the Arab Region) to apply in order to reach diverse mix of artist through background and discipline.
A nice example of a Gozo residency that just came to an end was the one by by Nusquam Productions (Philip Cartelli and Mariangela Ciccarello). As part of their residency project "Nothing is More Real than Solid Land," the artists developed a twice-weekly workshop with Year 3 students at Gharb Primary School based on collaboration between the students and members of a refugee youth group called Spark 15. Using video as a means of communication and a tool for interpretation the artists and students created a story of departure and arrival based in part on the refugees' own narratives. The students used performance, voice-over, and animation techniques, which the artists will subsequently combine with footage that they shot elsewhere in Gozo and Malta to create a short video. The video was screened at the end of April in presence of year 4 to 6 students. The screening led to an interesting dialogue about what it means to live in another country. The video will certainly be used in other contexts and settings.
Workshop Primary School Gharb, Photo Inigo Taylor
As mentioned at the beginning of this text being it is important for Malta and it is one of the main themes of Valletta 2018 to be at the crossroads of cultures and to be that creative hub in the Mediterranean. Therefore to enhance the cultural diverse and Mediterranean mix of artists, Valletta 2018 Foundation started to work closely together with Roberto Cimetta Fund[7]. From 2015 onwards a joint fund was put into place to encourage the mobility for artists within and towards the Mediterranean region. The collaboration between the two organisations also led to two artist residencies as part of the Global Grand Central project. One of which was granted to Deema Shahin to be resident in Gozo. As such her residency and her project "Home is Where Mom is: Gozo" is a good example of collaboration between public cultural partners (Spazju Kreattiv and Valletta 2018 Foundation), a network (Global Grand Central), a Fund connecting the dots in the Mediterranean (Roberto Cimetta Fund), several local councils in Gozo and the Ministry for Gozo.
That is the strength and already a kind of legacy that evolves from the residency programme today. It thrives on collaboration both on an international and national level, thus when Valletta 2018 comes to an end, the relations build in the years towards the cultural capital year will hopefully lead into a sustainable result afterwards, and has added a strong dimension to a creative and dynamic place of encounters in the Mediterranean.
Author: Dr. Ann Laenen, Meeting Point Strand Coordinator Valletta 2018. She studied Arts and Theatre Science at KU Leuven and promoted to PhD level at the University of Leeds on Arts Education. At present she teaches at the Department of Digital Arts/Faculty of Media and Knowledge Science (University of Malta). She combines her academic work with project coordination and consultancy. As such she is co-ordinator of the Meeting Point Strand including the Artist in Residence programmme for Valletta 2018 Cultural Capital of Europe.
[1] Source: http://www.valletta2018.org
[2] See http://www.kreattivita.org
[3] For further information see http://www.thisisblitz.com
[4] Create 2020 Strategy Arts Council Malta 2016-2020, p.11
[5] Create 2020 Strategy, Arts Council Malta 2016-2020, p.39
[6] See: http://valletta2018.org/cultural-programme/deep-shelter-project/
[7] See: https://www.cimettafund.org/article/index/rubrique/2/lang/en/fm/1